More than just a click
Junior Kadie Nugent finds artistic inspiration at school, in music, and in the people around her.
Kadie Nugent has loved art ever since her dad started doing art projects with her as a little girl. Anything that sparks her interest can inspire a new idea for a project. Transforming her ideas into art is what she loves most.
"When I'm doing it, I feel more in my element. I don't try, it just needs to happen. It's just something that I like a lot; I love it," Nugent said.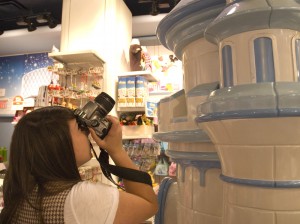 Luckily for Nugent, she is able to do this every day at school.
"I really feel that has my best interest at heart," Nugent said. "My teachers are always challenging me to take my work to the next level and to think in different ways." These teachers make Nugent's art classes enjoyable by helping her grow artistically and expand her talents.
"Kadie has some rawness, but she also has her own conceptual abilities. You can work with raw talent if it's there, and she's got it," Heaton said.
This year Nugent is taking Photography 3 and IB art. In the past, she has taken Art Foundations, Photo 1, Photo 2, Design 1, Design 2, and she plans to take Sculpture next semester.
"Originally after Photo 1, I thought I was the bomb. But now looking back, I could have done so many things better," Nugent said. " never goes away; you're always building."
Among Nugent's favorite photography assignments was a project where she recreated the style of Ralph Eugene Meatyard, a famous American photographer who often took photos of regular people wearing creepy masks, giving his work an eerie essence. Nugent took pictures of her brother and sister wearing masks at Antioch Park.
"I was proud with the way my shots came out. I think they represented his work well. They achieved the effect of being creepy but basic." Nugent said. Meatyard frequently photographed people in rural settings, such as a farmhouse or a garden, but Nugent wanted some originality in her work. So, she took her photos in front of a small stream.
One of her most recent projects is a painting of a fairy that symbolizes three of Nugent's wishes. Nugent used a variety of artistic techniques to convey her idea. She painted her outline, then used thread to stitch a design in the background. With the thread, which goes back and forth repeatedly across her canvas, she represented her first wish, to travel. The fairy's wings in the painting represent her second wish, to have wings. And by using mellow purples and light yellows in the background, she represented her third wish, that everyone would accept each other. However, Nugent was unsatisfied with the results.
"The idea of it was fine, but I would it thicker and more texture. It was too feminine, which isn't really like me. It kind of gets lost, it doesn't stand out." Nugent said.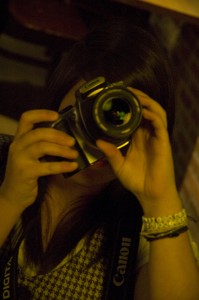 Nugent's work is influenced by her older brothers, who are also artists and work with film companies, as well as in computer graphics, drawing and painting. Although her mother does not possess the same artistic ability, she still encourages Nugent to pursue her passion.
"My mom's been very supportive. Art's hard to make a career out of, but she's always said, if I want, I can do it," Nugent said.
Along with family, friends and teachers encourage her with positive feedback.
"They're probably a little biased, but it's cool. If I have something up in the art wing they usually go look at it," Nugent said.
Although she enjoys painting, drawing and sketching, Nugent's specialty is photography.
"Sometimes people don't think photography is art because all you have to do is click," Nugent said, "It's making everything work together in the shot, so when you do click, it's good."
Although Nugent's favorite subject is art, she is in the International Baccalaureate program, which forces students to focus on a variety of academic interests.
"Education is really important to me. I like challenges, and this is definitely a challenge," Nugent said.
The only downside to IB, in Nugent's opinion, is that she can't take all of the art classes she would like. However inconvenient her IB schedule may be, Nugent still enjoys the program, and thinks it will be a good addition to her art school resume when she applies next year.
As a child, Nugent hoped to become a marine biologist. Now her aspirations have shifted and she is focused on attending the School of the Art Institute of Chicago and major in photography and design. If it doesn't work out, she'd like to go into the Peace Corps for a couple years until she figures out a different path.
"I feel like is what I'm supposed to do," Nugent said.
After college, Nugent hopes to have a studio in Chicago where she can work in various media. Nugent also wants to travel for her photography to explore more unique subjects and experience other places of the world for herself.
"I'm hoping some little grungy place in Europe. I like the art scene there and the underground music. I'd like to go to Africa to take pictures of stuff people don't see," Nugent said.
Nugent doesn't want to stay in one place. Her desire to travel comes from her curiosity and interest of what else is out there. She wants to search for inspiration everywhere.
"I want my photography to have meaning," Nugent said, "I want you to think when you see it."
-Kelsey Gasser