StuCo Election Speeches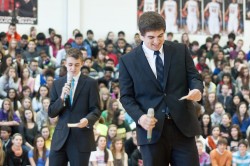 Freshmen, sophomores and juniors listened to speeches by Student Council president and vice president candidates in the gym on March 7. Juniors Carolina Mach (president) and Colton Allen (vice president) ran as partners, and Sam Gross (president) and Connor Johnson (vice president) ran together as well.
The results of the election were revealed at the end of the school day. The 2013-2014 StuCo president and vice president are Sam Gross and Connor Johnson.