Is Kansas doing enough to prevent distracted driving?
Kansas legislators recently passed a law that bans cell phone usage on the road for beginning drivers, but this will not solve the bigger problem of inattentive driving.
Under a new Kansas law, teenagers with a learner's permit or a restricted license are banned from cell phone usage while driving. This law, which goes into effect Jan. 1, 2010, means absolutely no cell phone usage while driving, including, but not limited to, texting and talking.
Is this really solving the problem of distracted driving? Are only beginning drivers considered dangerous when texting while driving?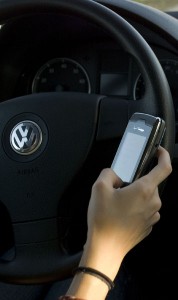 Adult drivers are just as likely to cause an accident while driving and using a mobile device as teenage drivers. Taking your eyes off the road, no matter your age or driving experience, is equally dangerous. By banning cell phone usage for only beginning drivers, legislators are sending the message that texting while driving is not an issue as long as you are of age. That just shouldn't be the case.
Nearly 6,000 Americans were killed as a result of distracted driving in 2008 alone, according to the National Highway Traffic Safety Administration. Additionally, 20 percent of adult drivers admit to texting while driving, and 73 percent admit to talking on the phone while driving. I guess teens aren't the only ones distracted behind the wheel.
It doesn't help that states are sending mixed signals about mobile phone usage while driving either. Twenty-two states, including Kansas, are using Twitter to send traffic and road condition updates to cell phones and, at the same time, have some sort of text messaging ban.
Why would state laws be passed to prevent cell phone usage behind the wheel when phone companies, and even state agencies, are encouraging the practice?
Many other road-friendly gadgets, including GPS devices, satellite radios and MP3 players, are being offered on cell phones.
This issue is far too dangerous not to be taken seriously, and a mere ban of cell phone usage for beginning drivers is not going to be enough. If texting is going to be banned at all, it should be for drivers of all ages.
Kansas should follow the example of the 18 states that have banned texting while driving for all drivers. Yes, even the guy cruising in his Lexus, wearing a suit and exchanging business e-mails over his Blackberry. He poses just as much of a threat as a teenager on his mobile device.
No one is so busy, or important, that they just can't afford to wait until they are off the road to use their phones. Distracted driving is far too preventable an issue to be responsible for so many deaths each year. It's really not that much to ask to keep your phone put away while behind the wheel to keep our streets a little safer.
*The staff editorial was voted on by all of the editors of The Northwest Passage present on Oct. 12.