Costumes Should Be allowed at Homecoming
Although our school colors are orange and black, the Homecoming dance will ignore any relationship to Halloween.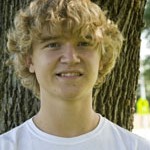 The first time I heard about the Homecoming dance being on Halloween, I thought, 'OK, this could turn out to be a lot of fun.' But then I heard the not-so-exciting news. No costumes will be allowed at the dance.
"Halloween is not a school activity and we're not going to make it a school activity," Dr. Bill Harrington said.
Are you kidding? Northwest's school colors are orange and black, for crying out loud. Halloween is the only day of the year that orange and black are the colors for everyone. It's almost like everybody is an orange and black Cougar for a day. Yet, at this orange and black school, we have to pretend that Halloween doesn't exist.
The Homecoming theme, "Midnight Mystery", alludes to a masquerade. I can understand that students wearing masks could cause identity issues. Fine. No masks. But no costumes at all? What is the harm in wearing costumes to a school dance? Let's take a look at the other issues pertaining to costumes at the dance.
Safety: Costumes tend to come with hand-held or miscellaneous objects, like swords or wands. These could easily become dangerous and should not be allowed at the dance. Why can't students be told beforehand that these objects won't be permitted into the dance, and then take them away at the door if students persist?
Offensive costumes: It's no secret that sometimes girls' Halloween costumes can be too revealing. And then there are the costumes that are just plain distasteful and indecent. Again, students could be warned ahead of time that those wearing inappropriate costumes can be turned away at the door.
So who will be in charge of monitoring the doors as guests arrive? I say let a group of students have that responsibility. Maybe Student Council or another group that will take the job seriously. If given responsibility for a cause that they support, students will take charge and act responsibly. Yes, there would be many steps in insuring that this dance is done the right way, but I think it would be worth it.
Imagine walking into a Homecoming dance where everyone is dressed up in costumes, creepy music is being played and spider webs decorate the walls. Sadly, this is not how the administration sees Homecoming night on Halloween.
I've heard many students discussing that they probably won't even attend Homecoming this year — they'd rather just go to Halloween parties. At least there they'd be able to sport their costumes and Halloween spirit.
I guess I just don't understand what the problem is with students wearing costumes to Homecoming. I really hope that sometime between now and Homecoming, there is a change of heart. If nothing else, this could give students a huge morale boost — another reason to take pride in going to school at NW.