28/7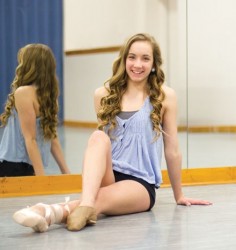 Every day after school sophomore Kylee Winters stretches out her legs on the cool vinyl floor at the PowerHouse Dance Studio. She gazes at her reflection in the mirror on the wall to observe every movement as she works to perfect every movement.
Ever since Winters enrolled in the Mommy and Me ballet class when she was two, she has been inspired. She has been dancing competitively for 13 years, since she was six, and plans to continue."
"Dance is pretty much my life," Winters said. "It's all I do. I go to school, I go to dance, then I sleep."
She dances every day except Friday from 4 p.m. to 10 p.m. and from 10 a.m. to 7p.m. on Saturdays. On Sunday, Winters dances from 9 a.m. to 7 p.m.
The way she feels while dancing is what keeps Winters going. Winters also does various types of dancing from hip-hop to lyrical.
"My favorite type would be a tie between lyrical and jazz." Winters said, " I like jazz because I can do the tricks and the turns. I like lyrical because I can tell a story."
Even though dance is what she wants to do in her future, it comes at a cost. Winters has given up time with friends which has limited her social life. But it's a sacrifice she is willing to make because to Winters, dance is her form of art.
"You can communicate through dance and tell a story," Winters said. "You can make your body match the music."
But Winters' art has resulted in many injuries.
"I got a callback and we all ran up to the stage. I broke my heel and got a hairline fracture on my shin getting trampled," Winters said. "There have been numerous times where I just twist my ankle or my back is sore."
Winters has occasionally thought of giving up dance.
"It takes too much time, and I just want to have more of a social life," Winters said. " I love it so much, I couldn't think of giving it up."
All of her work pays off. At every competition, her dance studio, PowerHouse Dance Studio, places. Sometimes Winters wins a title at competitions.
"Last year I won Miss Teen Dance for Kansas and that was exciting," Winters said.
Dancing in front of a crowd may seem intimidating to others, but it does not bother Winters.
"I've been competing a long time, so I don't get nervous anymore, but I still get an adrenaline rush which helps me on stage." Winters said. "Usually I just tell myself 'you've done it in the studio a billion times, you can do it onstage.'"
Winters' dream is to attend Pace University in New York City to major in dance. After college, she would like to to perform in a show and even travel. She hopes to pass on her passion to others by teaching dance.
"I'd like to eventually settle down and open up my own dance studio," Winters said. "I pretty much want to dance forever."