"The first two things people say are, 'Wow, it's bigger than I thought;' then they ask, 'Is it going to fit out the door?'"
Senior Eliot Alpert decided to construct a wooden motor boat as his last project in woodshop.
"My uncle has a summer home in New York, and we were on the lake. Some guy was building a boat," Alpert said. "It reminded me of something I could do for an epic senior project. I really wanted a boat."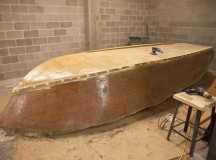 Before Alpert could start construction on the boat, he had to buy blueprints. The blueprints included a set of full size cutouts of the frame for the boat and step-by-step instructions on how to construct the boat. Because the boat was going to require a large amount of space, woodshop teacher Mark Schirmer decided to let Alpert build the boat in a separate room off of the main wood shop.
"It was a storage room at the beginning of the year," Alpert said. "The first week of school was pulling all of the stuff out, cleaning up, getting prepped, and getting all of the dust out. Then we had to build a frame that's not even in the boat; it's just a stand to build it on."
Alpert plans on completing his boat in nine months. On average, others take around 24 months. He spends three class periods in the woodshop as well as, any extra time he has during the school day working on his boat. He spends approximately 20 hours a week working on it. He is currently working on the splash rail, the trim, resin, which gives it a shiny look, and later painting the bottom.
" by Martin Luther King Jr. day we are going to be ready to flip the boat over," Alpert said. "We are going to get like 50 guys in here to flip it. That will mark the halfway point. I am a little bit behind schedule but I am going to get it done for R&D (Research and Development Forum)."
The R&D Forum, which will be held April 27 at Shawnee Mission West High School, showcases student work in from a wide variety of curricular areas including wood working projects.
"R&D is why I'm building a boat. It's kind of a combination of building it for amusement, building it for competition building it to build an awesome project."
Alpert purchased $800 worth of mahogany from Dayton, Ohio, which cost another $300 to ship. The final bill for the finished boat will exceed $5,000, including the motor, and will weigh around 550 pounds.
"I've got all of my summer money in this thing already and, you know, we're not done yet, so my parents are going to have to spot me a little," Alpert said. "We bought a boat to build this boat, if that makes any sense; we bought an old fiberglass thing we threw away and took all the parts."
Because the boat is located in such a small space, some have expressed concern regarding how the boat was going to be taken out of the room.
"We have a demolition crew that is going to blow up the ceiling, helicopter lift it out of the school and put it down somewhere," Alpert said. "No. We are actually getting it out that door."
The door is 6 feet by 6 feet 8 inches, while the boat is 15 feet 11 inches by 6 feet 7 inches. If the boat does not end up fitting out the door, they will have to break down the wall next to it with sledge hammers. Schirmer, however, is quite confident the boat will fit out the doors.
"It's going to be a relief ," Alpert said. "Especially if we get it done on time; it's a time crunch."
Alpert is naming the boat The Pursuit.
"It's a project boat. It's not about if it drives when it's all said and done; it's the journey to get there," Alpert said. "I'll probably take it to college or whatever on the back of my little broken car."