Marching Through Florida
The Marching Cougar Pride traveled to Orlando, Fla., on Dec. 21, 2012 through Jan. 1 to march in one of the biggest sports-affiliated parades in the nation: the Orlando Citrus Parade.
" excited and thrilled to be in Orlando with my band family. It was definitely the greatest trip I will probably ever take in my life," junior Kristy Gentry said.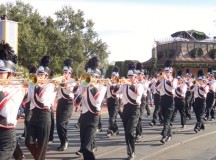 Three days after arriving, the weather took a turn for the worse: downpours lasting all day made it harder for the Marching Cougar Pride and Cougar Classics to take the streets of downtown Orlando, joining 45 other high school and college bands, floats and other organizations on the mile-long parade route. The performance was shown live on TV.
"Our performance was really good, considering it was down pouring non-stop," junior Courtney Saylor said. "Before I could play my clarinet, I would have to suck off all the water that had gathered on it."
The rain not only caused the players to have difficulties putting out a strong sound, but also caused some clarinets to stop playing completely because the rain had washed away some of their keypads.
"Marching in the Citrus Parade was so fun because it was pouring down rain, which made it all really memorable," junior Sara Martin said.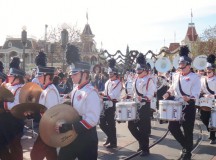 While in Florida, the marching band had the chance to go to Disney World, the Space Center and to experience other things Florida had to offer. While visiting Disney World, the Marching Cougar Pride had the chance to march with other bands in a short parade around the park.
"The performance at Disney World was short," Gentry said, "but it was so cool to get to march around Magic Kingdom."
On New Years Eve, the students went back to the Disney World to view the firework display at midnight. The one downside to spending New Year's Eve in the park was that the band did not get back to their hotel until around 1:30 a.m. Most still had to pack and be up by 5:30 a.m. to head to the airport.
"My favorite part was seeing the light show and firework display at Magic Kingdom. They showed all the Disney characters on the castle and it made you feel like a little kid again," Saylor said. "The worst part was not ever getting enough sleep."
The trip left the juniors and seniors with lasting memories.
"I really excited for the trip and have been counting down the days since November. Performing made even more exciting because it was doing something I loved with friends in a really cool place," Oszman said.