Northwest drops first game of  districts leaving scoring chances on the field in a 20-8 loss to Shawnee Mission West.
The story of the year for Northwest has been their struggling offense in the games against the top teams in the Sunflower League. First against Olathe North early in the year. Then the loss to Lawrence Free State in which they were shut out. And now the disappointing loss  to Shawnee Mission West to open district loss.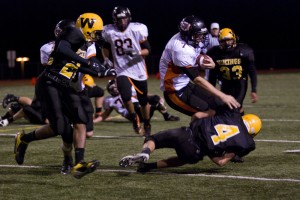 The Cougars started the game by stopping Vikings offense deep in their own territory on fourth down. Following the turnover on downs Northwest put together a 15 play drive taking the ball all the way down to West's eight yard line. But after three attempts at a touchdown senior Matt Nowak could not convert a 25 yard field goal attempt.
West finally broke the tie 6 minutes into the second quarter with a 2 yard run by junior Cordi Pascal. After stopping the Cougars offense once again, the Vikings senior quarterback DJ Balazs bursted through an open whole in the defense for a 69 yard scamper putting them up by two scores.
Northwest was able to run the ball efficiently throughout the game with senior Jon Hauk recording over 100 yards once again, but quarter back Matt Nowak was unable to complete a positive pass until the final drive of the game.
After the failing to score on their first drive of the second half, Northwest defense made a major play. Senior Will Greenhaw wrestled the ball away from a Vikings receiver giving the the Cougars another chance to score. But were unable to score in the red zone once again.
West added on their final score of the night later in the quarter with Pascal scoring his second touchdown of the night.
The Cougars finally put points on the board with 32 second left in the game with Nowak scrambling into the end zone to put the final score at 20-8.
Northwest tries to get back on track next week against Shawnee Mission East. If the football team wins their last two games of the season they will qualify for the playoffs for the third consecutive year.