6 Days of Christmas — Movie Marathon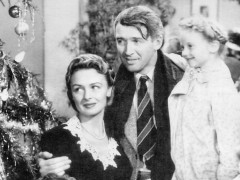 Nothing gets you into the Christmas spirit like a Christmas movie marathon. I have come up with the best Christmas movies to watch to put you into the Christmas spirit. Watch one movie a day until Christmas, and you will see the true meaning of Christmas.
After the end of World War II, two war buddies, Bob Wallace  and Paul Davis,  meet up and hit the road, performing a variety show. They stumble upon two sisters, Betty and Judy Haynes, in a jam and end up going with them to Vermont instead of going to New York for a TV show. They find their old Army general, Major General Thomas F. Waverly, running the bed-and-breakfast where they are staying to bring in business and cheer up their old general, Bob and Wallace bring in their entire battalion to wish him a Merry Christmas. This movie demonstrates the loyalty among the soldiers and is a heartwarming story for all to see.
Frosty the Snowman is a holiday song that was turned into a movie. Frosty is a traditional Christmas movie that my mother has made my siblings and I watch since we were children. The movie always makes me yearn for snow so that I can make my own snowman. Since there has been no snow this year, Frosty helps block out the emotions of a lack of snow during the winter holidays. Frosty brings back our childhood and memories of snow days and snowmen.
George Bailey, who has given up his dreams to help others, plans to commit suicide on Christmas Eve; however, he stops when his guardian angel arrives to show him what life would have been like if he had never existed. His guardian angel shows him all the lives of the people he has helped and what the people would have been like without George's help. With the help of the angel, George finds the worth in his life once again. George runs home, and his questions are answered when his neighbors come to help him. George is able to celebrate Christmas with his family. The movie shows the stressfulness of the Christmas holiday and that no matter how stressful it gets, everything will be alright. It's a Wonderful Life has become a traditional christmas movie.
The Christmas Carol, based on the story by Charles Dickens, tells of a man, Ebenezer Scrooge, who has no Christmas spirit amidst a town that is ready for Christmas. Trying to take all of the Christmas joy from everyone, he meets and tries to ruin Christmas as well. On Christmas Eve, he is visited by three ghosts — the ghosts of Christmas Past, Present and Future. Ebenezer learns that, with the way he is living his life, soon he will die a lonely death. To change his fate, he learns to give and receive love. The movie shows the part of giving in Christmas and why you should avoid being a Christmas Scrooge.
Elf is a story about Buddy who snuck into Santa's bag as a baby and was then raised in the North Pole as an elf. When he is fully grown, he learns that he is not an elf and travels to New York to find his biological father, who is tragically on the naughty list. Buddy brings the Christmas spirit back to the big city and helps mend the broken family. The movie shows that Christmas can bring a family together with spirit and magic and is good for all to see to get in the Christmas mindset.
Polar Express gives everyone the feeling of being a child on Christmas Eve. It allows an adult, for one night, to believe in Santa Claus and the magic of the North Pole. The story shows the true meaning of the Christmas spirit. The movie features a child whose parents had no money for Christmas, a girl who believes in Christmas entirely, and another boy who is unsure about Santa, who take a journey on a magical train to the North Pole to see who will receive the first gift of Christmas.Throughout the movie the boys learn to believe in Santa once again, and then all learn the meaning of Christmas.