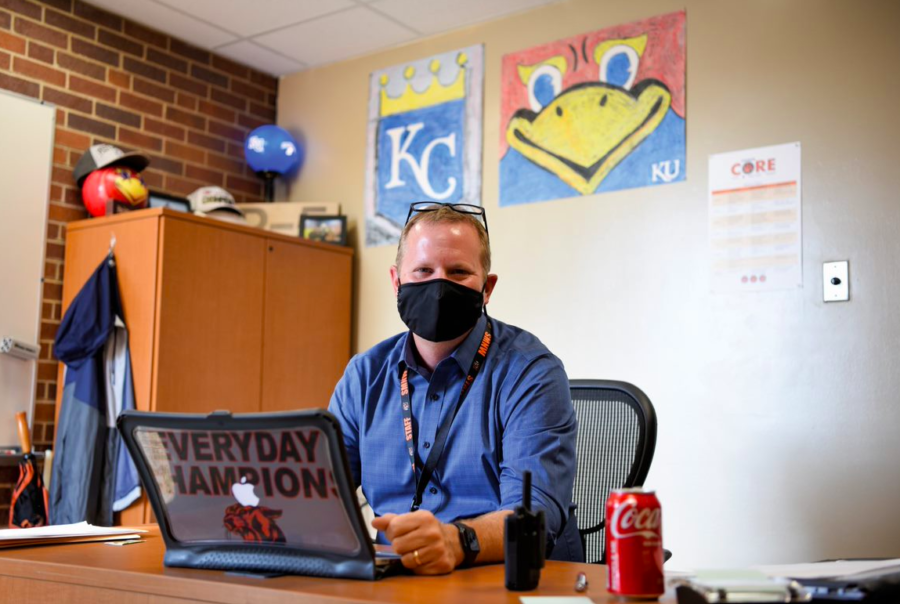 Britt Haney
NW new staff full interview with Britt Haney, the new NW Associative Principal
What does your position entail? 
Trying to help as many students, teachers, staff members and parents get the education that their student deserves.
What does a day in your life look like? 
Most days, when I get here, I kind of roll through and check facility and tech issues. Then I get that information out to the right people or contact the right people in the district to get those issues resolved. From there, it's just kind of a to-do list. Where am I at with working with students? Are there any parents I need to call back? What are some teacher needs that I can address that day? At night, hopefully, I'll have some sort of fun at Northwest events like soccer games, band concerts and any sort of event like that.
What inspired you to go into this field? 
Well, I was a teacher at Northwest for 13 years. I'm excited to be back here at Northwest. I really liked helping people and doing some problem solving, and every day I get to . When there's a problem, I solve it and move on to the next one.
What makes Northwest stand out from other schools? 
I just love how much of a community we are. The staff works together and does anything they can in order to help the kids. I love the kids because they're appreciative of how great this place can be and if they work hard they can see things succeed, like our music programs, yearbook or sports teams. Everybody works hard here knowing that they will see great things happen.
The highlight of the year so far? 
We finally got every kid a computer.
What are you most looking forward to this year? 
Getting to know as many students as possible.
What are your goals for the year? 
Getting to know as many students as possible, find a way to help every teacher at least once this year, and have a relationship built with parents knowing that they can call me even if it's a tough critical conversation. We will do everything we can. 
How can students contact you? 
The easiest way to contact me is to email me at brittonhaney@smsd.org. I also watch second lunch.
What is one thing you would say to the NW student body? 
Give me a chance to help you out, and I think you'll be quick to realize that you have a wonderful resource here in Northwest.