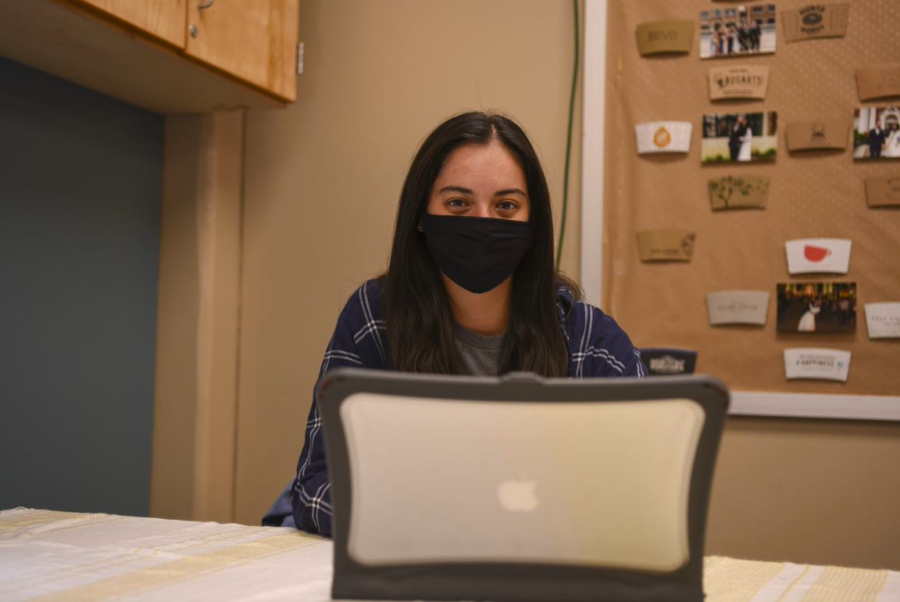 Sarah Hink
NW new staff full interview with Sarah Hink, the new school english teacher and gymnastics coach
What does your position entail? 
My position at Shawnee Mission Northwest is two-fold. I am a teacher and the head gymnastics coach. I teach ELA 3 for all my classes and then I am the head coach for SM North and Northwest.
What does a day in your life look like? 
A typical day for me starts at 5 a.m. as my husband and I race around our house to get ready for the day. When I get to school, I teach my classes and head over to the stage gym where we hold practice for both high schools. When practice gets over, I head home to have dinner with my husband and lesson plan or watch some TV. Usually we don't eat until 8p.m.,9 p.m. or sometimes 10 p.m. because it takes forever to cook.
What inspired you to go into this field? 
I had a teacher, when I went to SM West, who inspired me to be a teacher. I hope I can do the same for my students throughout my teaching career.
What makes Northwest stand out from other schools? 
The community within Northwest is something I have always appreciated. I first became aware of this community through being the assistant gymnastics coach last year while I was still in college. The staff, the students and everyone here made me so excited to come to this school in particular.
Highlight of the year so far? 
The highlight of the year so far has been with my gymnastics teams. Watching them progress from last year, and now to this year has been absolutely incredible. I love the bond both teams have with each other. Sometimes it's hard to distinguish who goes to North and who goes to Northwest when we're at practice every day. It has been a blessing to be a part of something like this.
What are you most looking forward to this year? 
To answer honestly, making it through my first year of teaching. It terrifies me every day that I won't do a good job or I won't be able to build relationships with my students the way I want to. I want so badly for my students to trust me and trust my teaching process, and I think we are off to a good start this year. That is what I am looking forward to this year – saying that I survived.
What are your goals for the year? 
I mentioned it before, but my goals are to be the best teacher I can be, learn from my mistakes and become better each day as I adapt. I want my students to trust me and, most importantly, want to build relationships with each one. My goal is for students to understand that I truly care about each and every one of them and want to see them succeed in whatever their endeavors entail.
How can students contact you? 
Students can always contact me through Canvas or via email at sarahgregg@smsd.org, or come see me in room 129.
What is one thing you would say to the NW student body? 
My biggest interactions are with juniors as that is the grade level I teach, but hearing conversations in class, it sounds like everyone is learning to get close again. I am so thankful students are back in school again because it was amazing to hear everyone excited about Bonfire, football games and even MuckFest.
Where have you worked before? 
Besides teaching and coaching at Shawnee Mission Northwest, the only job I have ever had in my life has been working at Emerald City Gymnastics. I grew up competing there as a gymnast and going to their summer camps. I started working there when I was 16 and haven't left. I worked my way up to help coach team, pre-team and rec classes as well as becoming the camp director over the past few years. It has been an amazing job and I wouldn't be where I am today without that job and the skills I've gained from it.