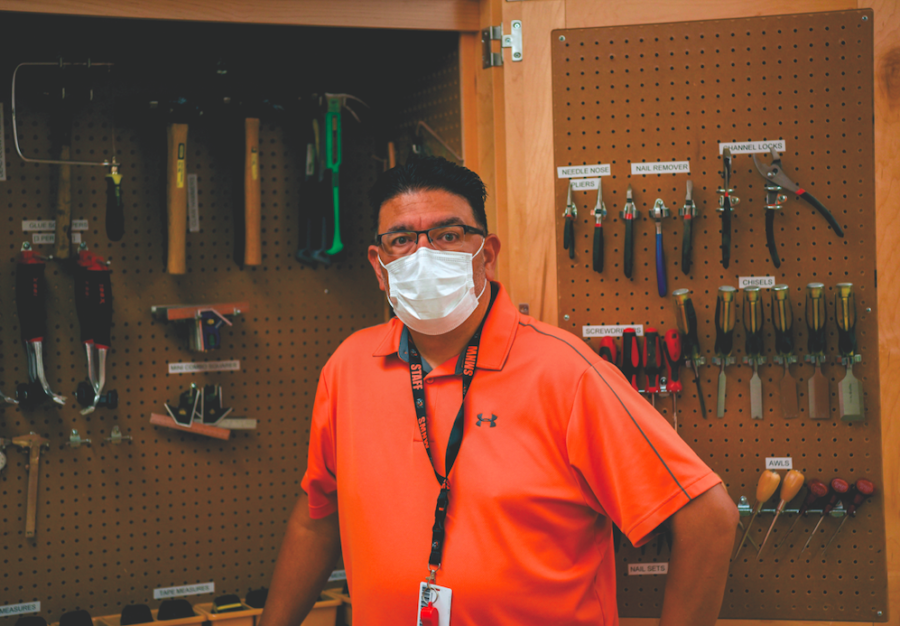 Steven Cortez
NW new staff full interview with Steven Cortez, the new school Woods Technology Teacher
What does your position entail?
I teach Woods 1, 2, 3 and 4, so it's four levels of woods. The first is beginning, the second is manufacturing, the third and fourth are fabrications… It is offered for freshmen through seniors… I have some seniors, I have some freshmen, I have some sophomores and juniors. I really don't treat anyone differently. Kids are kids.  
What does a day in your life look like? 
I try to get here at around 7 in the morning. I want to get things started, get things going, so, I try to pre-cut some wood and get some stuff ready for demos, especially the safety demos. I try to get some fun team building activity ready for my kids each day so they can talk to each other and get to know each other a little bit. I learned every single one of their names during the first hour of class – first and last. That's really important to me, to know their names, because everyone has a name. I want to be able to use it and call them by name. I'm really big on relationships with students so I just try to get to know a little thing about them each day. So, I might just say, 'Hey Grace, tell me two things about that I might not know.' I'm a big bell to bell teacher, I teach bell to bell with no down time. We are working and shaking and moving. I got to keep them busy; when the cats are away the mice will play. 
What inspired you to go into this field?
I really didn't feel like I wanted to be a minister, but I wanted to be a teacher and I wanted to work with kids. So, I became an industrial tech teacher. I did industrial tech for nine years, then I was a broadcast teacher for 20 and now I'm back to industrial tech. I've been all over the board, but I like learning and I like challenging myself. 26 years at Blue Valley, and I decided to make my move to Shawnee Mission. It's been a big change.
Is religion still a big part of your life? 
It is, yes. I am still a believer, I go to Lenexa Baptist Church. I am more of a relationship instead of a religious believer. You know, my relationship with Jesus Christ instead of in my life. 
What makes Northwest stand out from other schools?
Well, I'll be honest with you, at first I thought I made a mistake, but in the end I think I can make more of a difference here than I could have at Blue Valley. In other words, I just feel like Blue Valley kids tend to maybe not see a teacher as someone they can connect or an influence in their life. While here I can really be a good influence on kids, but time will tell of course. I think in the end I can make more of a difference here, in building a relationship with students than I can at other schools. 
Highlight of the year so far?
I just like seeing when light bulbs go off, and people get it all of the sudden. Like, 'Oh all that stuff you were teaching us – that's why we are doing it' and all of a sudden, it comes together. I just love those moments. There's just certain times. I did some team building activity in my advanced woods class and blindfolded them. They had an obstacle course they had to go through and had a partner talking them through the obstacle course. I think at first they were really like 'What are we doing here?' and then at the end they really got into it. I think that was the moment when I went 'Hey, this is good.' They just have to give me a chance. I am different and I'm not going to teach the same way everyone else does. I am very big on relationships and talking to each other. You are going to get to know people in the class. You are not going to be able to be a bump on a log and just sit there. If you are thinking about taking Woods, and about an easy 'A,' number one: it's not, and number two: you are going to get to know people that you maybe have never gotten to know before.     
What are you most looking forward to this year? 
We are building some cabinets for the school in my advanced class, and I am really looking forward to that. Like I said, I'm just focusing on building relationships with kids to the point where they really look forward to Woods Two, Three and Four in the future. I look forward to building a program. I'm going to invite the counselors down and cater lunch for them and discuss everything students can do with wood and all the technology we have to use. I'm hoping that will impress them to help them get some kids in here who don't see woodworking as an interesting class for them and that we do more than just sand wood. 
What are your goals for the year?
I want to be a positive influence on kids, that's my biggest goal. I accept one and all. I want everyone to be themselves, I'm not going to try to change them, but I'm going to try to be a positive influence and teach them some things they can take away from here. I tell my kids that they will probably never be woodworkers someday as a job, but most people will own a home and you will want to do stuff around your house; be able to take care of some stuff so you don't have to hire someone. 
How can students contact you?
Room G; I am always down here. I have no other room so, come down to room G and say 'Hi.'I usually have popcorn that we can pop. I'll share my popcorn or share whatever, so just come on down. 
What is one thing you would say to the NW student body?
Thank you for welcoming me with open arms and I look forward to being a member of the Northwest community.