Influential seniors: Anna Feyerherm
Anna Feyerherm: Varsity Gymnasitcs, Varsity Drill Team co-captain, The Coalition, StuCo Executive Board, CCC, NHS, Arts and Crafts Club, Mrs. Boren's Book Club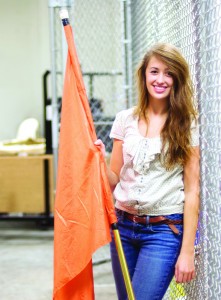 On being captain of the drill team: It's the most stressful thing I've ever done, but it's really rewarding and I wouldn't have had it any other way. There's so much stuff that goes into it. It's a weird sport because, unless we go to competition, we don't really win or lose. It's just whether the team likes it and whether we all get along and have a good time.
Best high school memory: I feel like the best high school memory is the first time that I've done everything, like the first time I did Spring Special, the first time I made StuCo, the first time I got an acceptance letter or scholarship offer. Those are all new things, new experiences, and that was always really cool. I have a lot of good memories.
On the difficulty on being in so many clubs: Sometimes it's hard to focus on being at school for school. When I think about going to school, I think about what are we going to do in Drill Team, what are we going to do in StuCo? I mean, I still do my homework and I still try at school, but there are so many things going on.
On leadership skills: I didn't really think of myself as trying to be a leader until I was on StuCo. I went to the leadership camp last summer in Tahoe. You learn so much more about yourself as a leader. I think what I've mostly realized is that you don't have to be very vocal about it; you can lead in other ways.