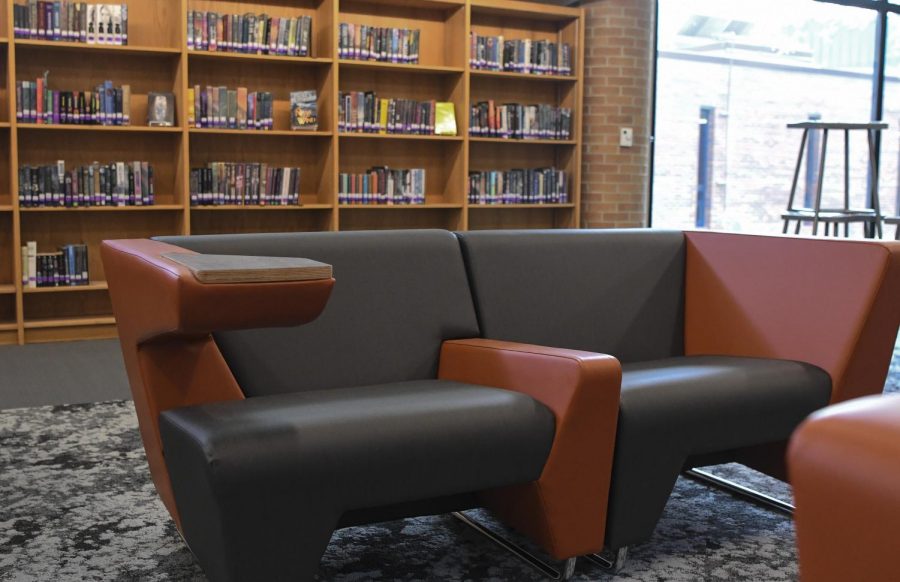 Weston Payne
After being in the works for several years, NW students will have access to a newly renovated library this year. As a result of a bond issue passed by the district, renovation occurred at all five SM high school libraries and will feature fresh carpet, all new furniture and a café area.
"It's basically a facelift for the library," librarian Meghan Stigge said. "Even though it sounds like not much has changed, I think it looks quite different."
Upon entering the library, students will see NW school colors throughout the space. Orange and gray carpeting as well as sleek new seating are the most noticeable changes. The library has said goodbye to the benches and rocking chairs of its past and introduced a new array of matching furniture scattered across the room, including angular orange chairs, gray leather ottomans and "wobble chairs," stools with rolling bases to aid attention span and encourage good posture. While the overall appearance of the library has been drastically impacted by the renovations, book organization hasn't changed.
The library is currently open for teachers to use with their classes, and will be available for general student use after the installation of a wheelchair-accessible door feature.
"I've had a lot of teachers bringing their classes in during the last week. So far it's been overwhelmingly positive," Stigge said. "More and more research is coming out that shows that our physical environment affects our attention and moods. I think a fresh environment is always helpful for students and faculty."
While Stigge's favorite aspect of the remodel is the new furniture, the café area has generated plenty of buzz among students. The café is not quite ready to open yet, but the marketing students and their teacher Beth Johnstone are hard at work to get it up and running.
"The marketing classes responsible for running the coffee shop," Johnstone said. "Right now, they are in the middle of finishing up their business plan which we are going to present to Dr. Gruman."
According to the business plan, the equipment and supplies will cost roughly $1,000. Johnstone anticipates the coffee shop will be ready for its grand opening before second semester. The coffee shop is going to be a comfortable place for students to get coffee or study in the morning before class.
"We are going to start with hot brew coffee," Johnstone said. "We might do some cold brew, but we've got to start out with one or two products and then we can expand to doing different types of drinks."
The addition of a coffee shop isn't meant to take away from the original purpose of the library however. The new library remains a place to check out books as well as the home for a maker lab.
"My favorite part is when a student comes in and goes, 'Oh the library looks really nice—and that book looks really good. Can I check that out?'" Stigge said. "It's interesting because libraries have stereotypes in this world of being a place where an old lady with a bun shushes you, or that they're obsolete because we have the Internet. I think it's important that people in the community see this is just a great place, and that they become interested in learning in the process."